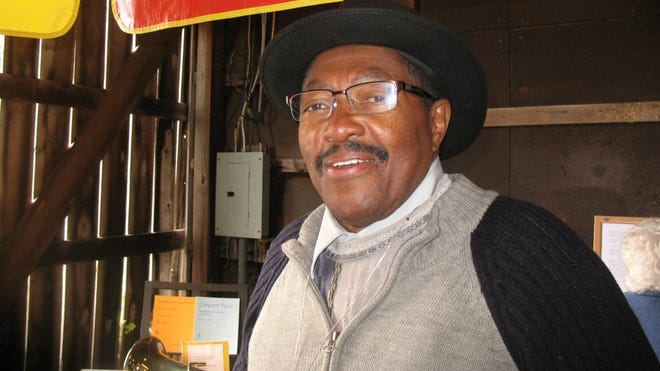 Clinton Tarver has been serving hot dogs to hungry locals in downtown Lansing, Mich., for the last five years, but a brush this week with a pro-union protest literally upended his small business in a matter of minutes.
During a protest against right-to-work legislation in Michigan's capital, Tarver's catering supplies were destroyed when demonstrators tore down the tent where he was serving and trampled his gear.
The tent had been set up by the conservative Americans for Prosperity, which supports the legislation Gov. Rick Snyder signed into law Tuesday that allows unionized workers to opt out of paying union dues.
Tarver, who has been a small business owner for the last 16 years, was there to give hot dogs to supporters in the tent on the Capitol lawn. He said he was just checking tickets, not sizing up customers.
"Everyone that had a ticket I had given a hot dog to," the 63-year-old owner of Clint's Hot Dog Cart and Casual Catering told FoxNews.com. "So when two guys, one with a mask, came to get their hot dogs, I didn't think anything of it because they had tickets and I was just there for a job."
He described the action that ensued as "violent." Only minutes after he'd handed the two men their hot dogs, the pair tore down the tent, turned over his serving tables, smashed his hot dogs, tossed a cooler filled with sodas and spilled his chili.
"I kept explaining that I was just here to do a job, that I wasn't on anybody's side, but when people started calling me racial slurs, my friend who works at the Capitol told me I had to get out of there, so I crawled out," said Tarver, who is black.
Until Tuesday, he thought he was relatively unknown. But word spread about the incident, and local residents on both sides of the issue began rallying to help Tarver out.
Lorilea Zabadal, a staff member for Republican state Rep. Al Pscholka, set up an online fundraiser at gofundme.com. The goal was to reach $5,000. As of Wednesday afternoon, over $14,000 in donations had been raised.
"I supported Clint. He's a great guy and a great small business,"Lt Governor Brian Calley. He also thanked citizens who had supported Tarver financially.
Tarver said that state Sen. Joe Humes and his wife reached out to Tarver on Tuesday night promising to reimburse him for his equipment.
And a spokesperson for Americans for Prosperity said they plan to reimburse Tarver as well.
Michigan State Police have contacted Tarver about the incident, but a request for comment by Lansing police was not immediately returned to FoxNews.com.
Tarver said he's overwhelmed by the support and that he didn't know he had touched so many people.
"I never knew people cared so much about the hot dog guy — I feel overwhelmed," Tarver said. "I'm just here to serve."